Stars– Stars are made up of a long body followed by a short body with a much smaller shadow (trading range). The bodies of the two must not overlap, though the shadows may. There are three major star candlestick patterns, which I will discuss below.
Morning Star
The Morning Star pattern is a bullish reversal signal after a downtrend (as portrayed above). The first bar has a long black body, the second body gaps down from the first (the shadows may still overlap) and may be filled or hollow. This is followed by a long white body, which closes in the top half of the body of the first bar.
The Evening star pattern is opposite to Morning Star and is a reversal signal at the end of an up-trend. Evening star is a three-candle pattern that comes after a rally. The first candle has a tall white real body, the second has a small real body that gaps higher to form a star, and the third is a black candle that closes well into the first session's white real body.
Doji Star
A Doji Star formation is weaker than the Morning or Evening Star – the doji represents indecision. With a Shooting Star the body on the second bar must be near the low – at the bottom end of the trading range. The upper shadow must be longer. This is also a weaker reversal signal after a trend. Both of these patterns require confirmation – by the next bar closing below halfway on the first bar.
Rising and Falling Three Methods
The Rising Method (pictured to the left) consists of two strong white lines bracketing three or four small declining black lines. The final white line forms a new closing high. The pattern is definitely bullish.
The Falling Method (pictured to the right) is bracketed by strong black bars, the second black bar forming a new closing low. This is definitely a bearish candlestick pattern. It usually forms in the middle of the range in a downtrend.
PART 4- Applications
A) Candlesticks with Support and Resistance
WHAT IS SUPPORT
Although it is a relatively simple to understand concept, most of the traders are using it in different ways and find it difficult to apply. That is why, I do consider it important to be covered, since I am probably using it in a different way than many other traders. I have covered this topic very extensively in my comprehensive Support and Resistance article. In the next few screenshots, you will find an explanation of support and resistance with real life examples.
Question:Try to find the candlestick patterns that formed around the major levels.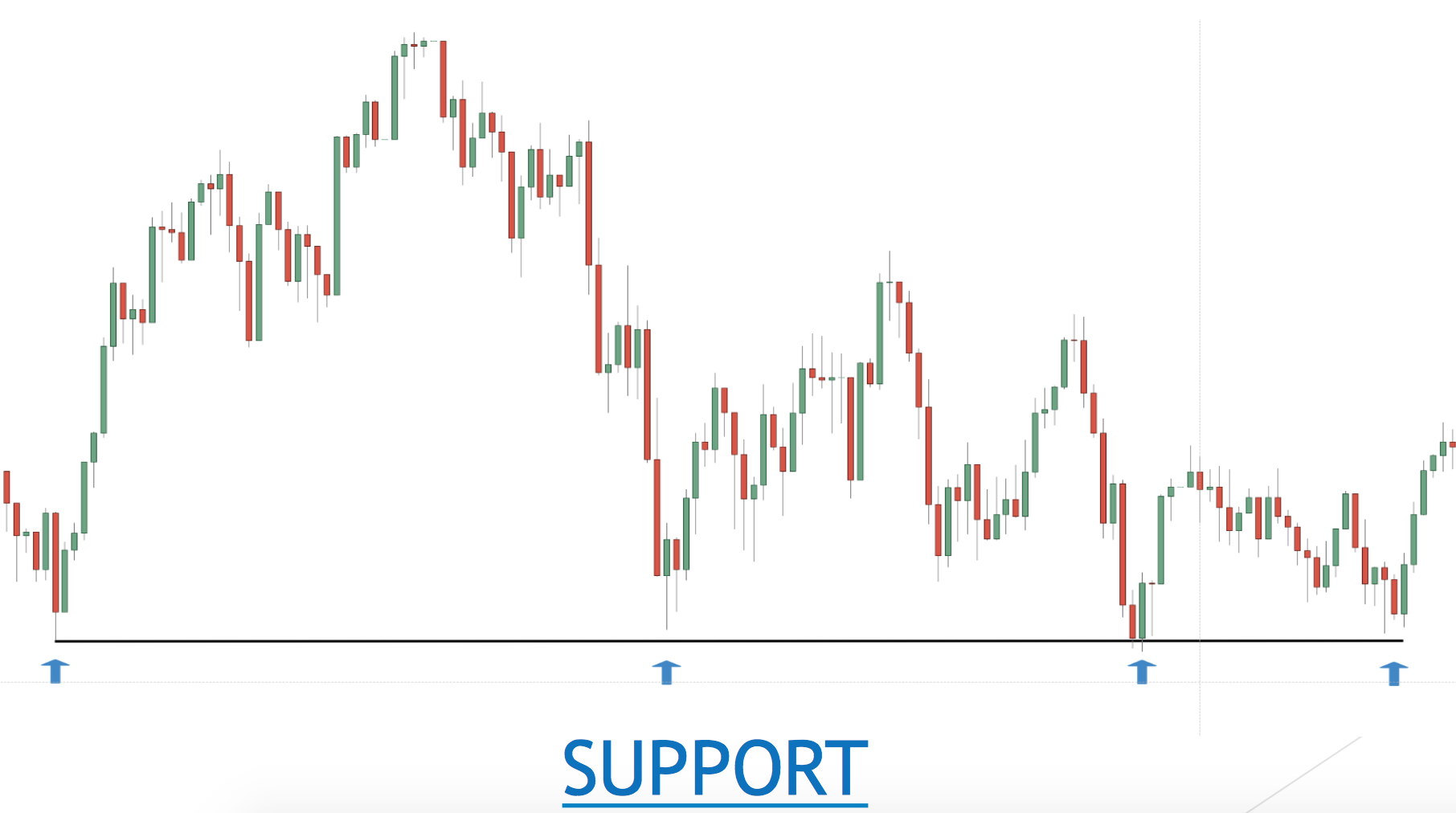 In the chart above, you can see a multi-month support level marked by the price touching the same level on the chart. In this case, the support level is located at 13,900. We can see that the price did come close to this level and re-bounced at least four times.
Answer: Above the first blue arrow, the candlestick pattern that formed is an inside bar. Above the second blue arrow, there is a pin bar that formed. The third arrow is showing us a bullish engulfing pattern. The fourth arrow is showing a pin bar and a bullish engulfing pattern afterwards. All of those candlesticks lead the price higher. 
Support is a level, at which demand is strong enough to prevent price from declining further. That means that around this support level sellers are less hesitant to continue selling and buyers take control over price. This level is seen by market participants as an equilibrium level, where money is exchanging hands. Thus, support can be established with previous reaction lows. Traders know that technical analysis is not a precise science and thus experience comes handy when projecting support levels.

WHAT IS RESISTANCE
The resistance level is established by using the previous reaction highs. The concept of resistance is exactly the opposite of what support represents. Resistance level is a level at which, buyers are more hesitant to continue buying and sellers come in to push the price lower. In the FTSE example below, you can see a multi-month resistance level. There are at least 7 times when the price is reaching to the level of 6,900. It is located just below the 7,000 psychological barrier.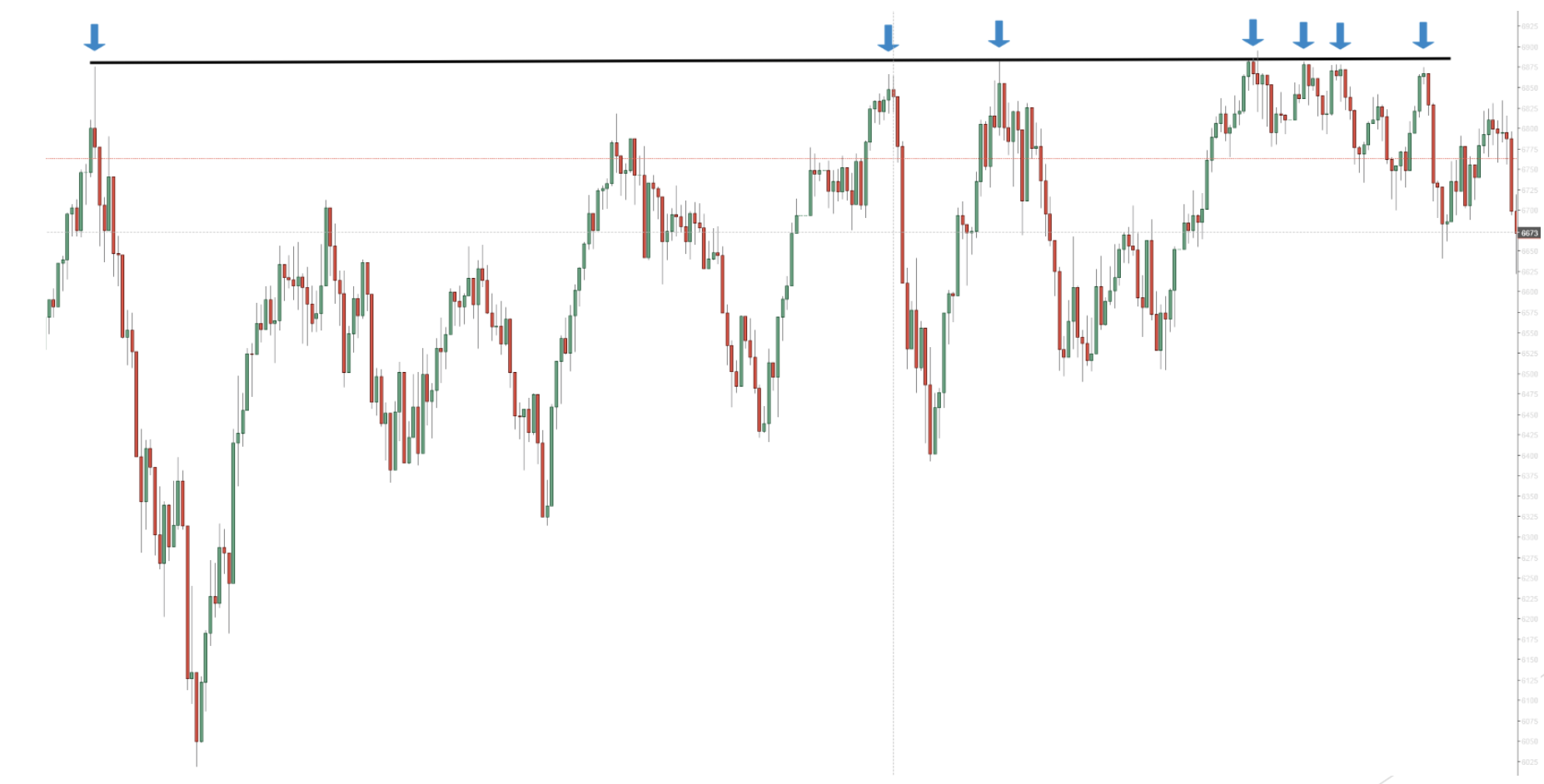 Question: Just like above, try to find all the candlestick patterns that formed on that level.
Resistance is a place of equilibrium, where money is exchanging hands. Demand at such levels is not enough and that is why price starts declining. For how I use resistance, you will learn more in the Support and Resistance article I have referred to above. You can have a look at another article on support and resistance, where I am walking my followers through real life examples.
B) Candlesticks with Moving Averages
A moving average offers great support and resistance. The bigger the period the moving average considers, the stronger the support and resistance area.
Moreover, the bigger the time frame, the stronger the support and resistance. In other words, when the price hits a 200 EMA on the monthly chart, there's a strong likelihood it will hesitate at the level.
Further, price acts around moving averages just like it does around a classical trend line. Once broken, the support becomes resistance. Once resistance gets broken, it turns into support.
However, when compared with classical support or resistance, the one provided by moving averages is more powerful. It is called dynamic support and resistance. Look at the EURUSD screenshot below: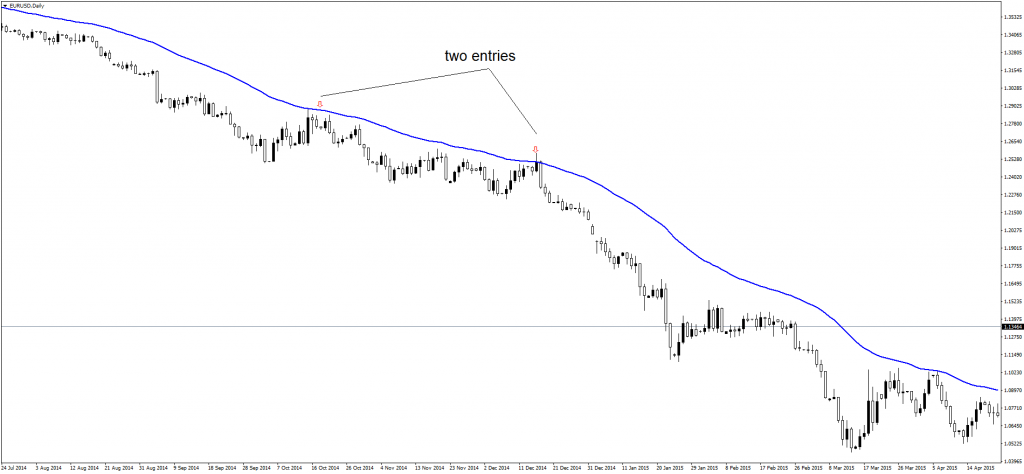 In fact, it means it moves together with price. Due to the way they're calculated, traders use moving averages to trail stops when riding a trend.
Others use them to add positions to a strong trend. As a rule of thumb, the more price comes to a moving average, the weaker the trend becomes.
Example 1– Trading Moving Averages with Candlestick Charts
As you can see from the screenshot below, EURUSD has been in a steady uptrend for the past few months. Moving averages (MA) can be used to enter in a trade once the trend has been established. If you are using candles in conjunction with MAs, then you might be onto something great. What can be said by looking at the EURUSD chart below: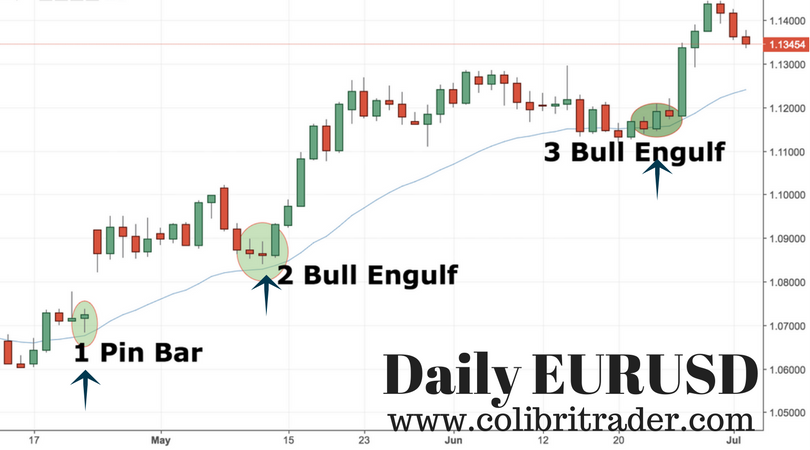 Example 2– Trading Candlesticks with Two Moving Averages
When traders are looking using two moving averages to trade, they usually are waiting for a crossover. If you have a crossover and a confirmation from a candlestick chart, that is great. Let me give you an example of those, so you can better visualise it.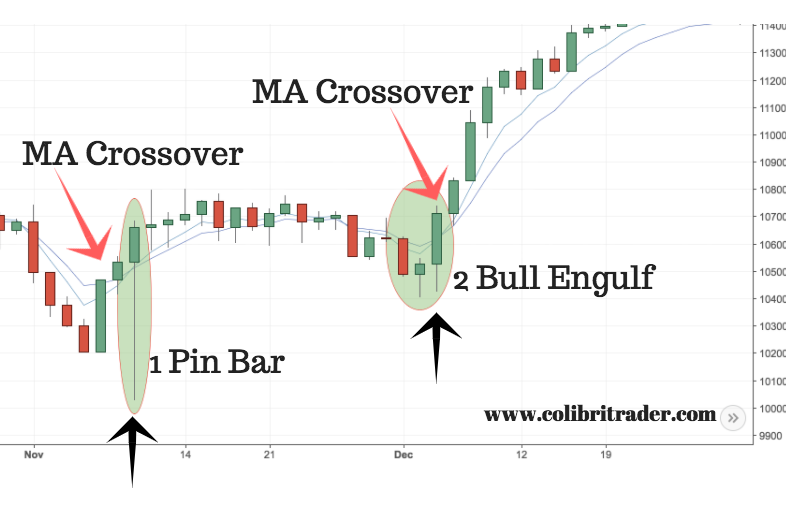 As you can see from the DAX (Germany 30) screenshot above, we had two positive crossovers. (A positive crossover occurs when the shorter-term moving average crosses above the longer-term moving average.) At these areas we have 1) pin bar forming and 2) two bullish engulfing pattern. A confluence of factors is leading the price higher and continuing the bullish trend.
CONCLUSION
A lot can be said and written about candlestick charts. In the end what matters is how are you going to apply that knowledge. Some of the most important sub-topics of that article are:
What are candlesticks and how are they used
Different types of single candles
Candlestick formations (two or more candles)
Applications
In the last past (Applications), I walked you through two different approaches of using candlesticks. First, I showed you how to use candlesticks in conjunction with support and resistance.
Second, I showed you how candlesticks are used with moving averages. I also gave a few real life examples down the line to make it more visual. All in all, I hope that this detailed candlesticks article has given you enough information, so you can make a more informed trading decision.
In short: be informed
P.S.
To download the free e-book on candlesticks, please visit Colibri Trader's website